Empowering Others
Get the Cooperation of Others
Empowering people is the key to building a high-performance team. Once you empower people by learning how to motivate and inspire them, they will want to work with you to help you achieve your goals in everything you do. Your ability to enlist the knowledge, energy and resources of others enables you to become a multiplication sign, to leverage yourself so that you accomplish far more than the average person and in a far shorter period of time.
Determine the Key People to Empower
There are three types of people that you want to and need to empower on a regular basis. They are, first of all, the people closest to you: your family, your friends, your spouse and your children. Second are your work relationships: your staff, your coworkers, your peers, your colleagues and even your boss. Third are all the other people that you interact with in your day-to-day life: your customers, your suppliers, your banker, the people with whom you deal in stores, restaurants, airplanes, hotels and everywhere else. In each case, your ability to get people to help you is what will make you a more powerful and effective person.
Always Be Positive
Empower means "putting power into," and it can also mean "bringing energy and enthusiasm out of." So the first step in empowering people is to refrain from doing anything that disempowers them or reduces their energy and enthusiasm for what they are doing.
There are things you can do every single day to empower people and make them feel good about themselves.
Learn How to Talk: Secrets of the Great Communicators + Bonuses!
Satisfy the Deepest Needs
The deepest need that each person has is for self-esteem, a sense of being important, valuable and worthwhile. Everything that you do in your interactions with others affects their self-esteem in some way. You already have an excellent frame of reference to determine the things that you can do to boost the self-esteem and therefore the sense of personal power of those around you. Give them what you'd like for yourself.
Continually Express Appreciation
Perhaps the simplest way to make another person feel good about himself or herself is your continuous expressions of appreciation for everything that person does for you, large or small. Say "thank you" on every occasion.
Thank your spouse for everything that he or she does for you. Thank your children for their cooperation and support in everything that they do around the house. Thank your friends for the smallest acts of kindnesses. The more you thank other people for doing things for you, the more things those other people will want to do.
Action Exercises
Here are two things you can do immediately to put these ideas into action.
First, continually look for ways to make people feel more valuable and important. Say things to others that you would like others to say to you.
Second, express appreciation for everything anyone does for you, large or small. Say the words, "thank you" on every occasion.
How to Talk: Secrets of the Great Communicators + Bonuses!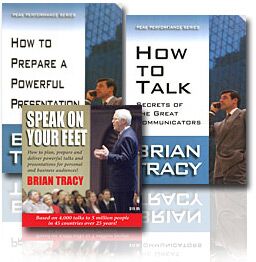 See Also
« Previous Post
Four Rules of Time Next Post »
Focus On Key Result Areas
About Brian Tracy — Brian is recognized as the top sales training and personal success authority in the world today. He has authored more than 60 books and has produced more than 500 audio and video learning programs on sales, management, business success and personal development, including worldwide bestseller The Psychology of Achievement. Brian's goal is to help you achieve your personal and business goals faster and easier than you ever imagined. You can follow him on Twitter, Facebook, Pinterest, Linkedin and Youtube.