5 Tips to Conduct an Effective Online Presentation
In this age of technology, one of the most common and effective ways to speak to your audience is virtually. There are many methods for hosting an online presentation whether it is through a Facebook Live, a YouTube video, a webinar, or even in video lessons.
However, how well you can reach your audience depends on how you manage your virtual sessions.
It is one thing to get your audience to tune in but another to keep their attention.
Before you start your virtual sessions, make sure you use these tips to not only keep them entertained but also keep them coming back for more.
---
---
1. Know Where to Focus Your Camera
If your audience cannot see you, they may not stay long.
You want to make sure that you not only have the camera facing you and keeping your center (unless you have a prop you want to use to one side) but also that you have a light facing your face.
Test out a few options before you actually create the video or go live so you can make sure they can see you and that you and/or your prop are kept as the main focus.
Additionally, you want to make sure you have a good background. A messy room can be distracting to your viewers.
2. Take Specific Questions Private
There are some questions that are great for answering in real-time through the video but there are others that really should be answered privately.
You do not want to take away from your video by taking a question that is very specific to one person or a small group of people.
If you do want to answer questions live on the video, make sure they are relevant to most people who would be watching or you run the risk of losing the attention of a lot of your virtual audience in the process.
3. Practice
If there is nothing else that you do before you create your video or go live, at least you make sure you practice your presentation skills.
While it may seem like it will be easier because you are not speaking in front of a live audience, it can be just as intimidating. If you do not practice, you could easily trip over your words and mess up in your video.
Another reason that you want to practice is that you do not really know how it will go until you practice it.
You may think you have a 5 minute video to record but the first time you practice, it would be a lot shorter or a lot longer. It is best to test it out first before you hit record.
Setting SMART goals will help you keep on track when practicing.
4. Smile
You want to be approachable to your audience and the easiest way to do this is by smiling in a natural way.
Remember that this is something that people will be watching and even though no one is there with you physically, you still need to smile towards them.
This not only makes you more familiar and warm on screen but it makes you seem like a real person that people will want to listen to.
5. Check Your Sound and Internet Connection
The last thing you want is to start your live video or recording and only to find out later that people could not hear you well or that the recording is glitchy because your internet connection was not strong.
You will want to test both of these out before you start recording and maybe even do a test video ahead of time so you do not run into these issues.
If this does happen, people will stop listening and watching and move on to the next thing so this is very important as a baseline for your videos.
Other Tips to Keep Your Audience Engaged
With so much around to take the attention of your audience, you want to make sure that you keep their attention for as long as you can.
One way you can keep your audience engaged is by encouraging interaction of some sort throughout the video. You do not want to talk at them but to them and bring them into the conversation.
Another way is to stick with simplicity but also use some visual cues if you can.
Try to break up all of the talking by including some visual cues or slides throughout the video but also make sure that these are simple so they can look at it but still pay attention to what you are saying.
---
Do you want to stand out in a crowded world and become a thought leader?
Download my virtual public speaking tips now!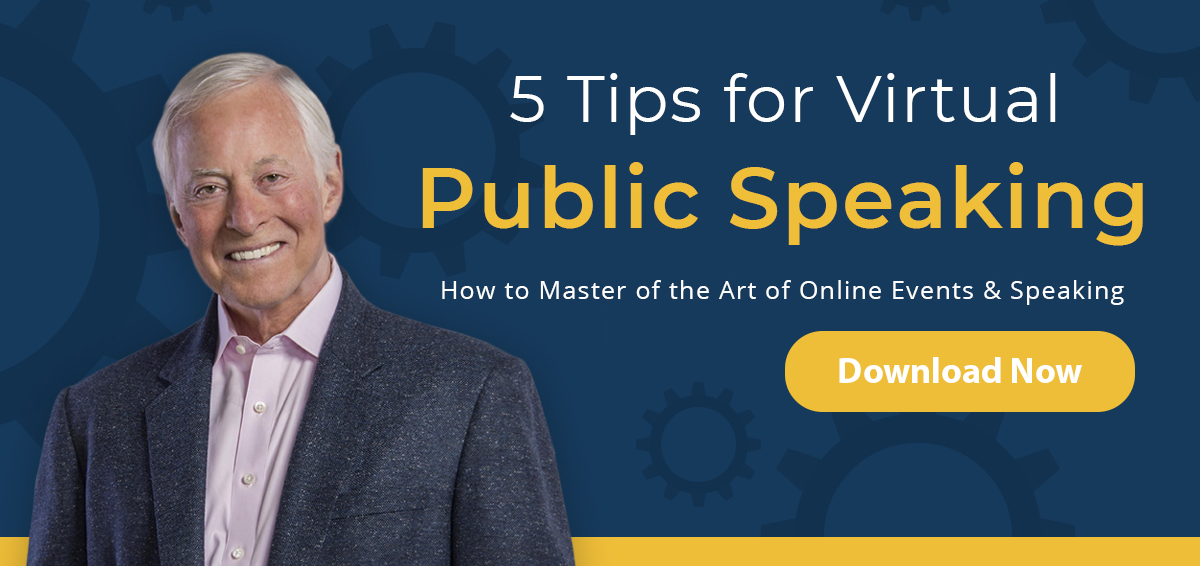 ---
« Previous Post
5 Tips for Making More Money Online Next Post »
6 Tips for Building a Brand & Selling Internationally
About Brian Tracy — Brian is recognized as the top sales training and personal success authority in the world today. He has authored more than 60 books and has produced more than 500 audio and video learning programs on sales, management, business success and personal development, including worldwide bestseller The Psychology of Achievement. Brian's goal is to help you achieve your personal and business goals faster and easier than you ever imagined. You can follow him on Twitter, Facebook, Pinterest, Linkedin and Youtube.