3 Daily Routines to Increase Your Productivity
The preparation that you make in the evening for the day ahead will have an enormous effect on how successful you are.
We've talked several times about the importance of thinking on paper when it comes to goal-setting and making a clear plan for your future and that's exactly what we want to do when preparing for the day ahead.
1) Always Think on Paper
Take a piece of paper and write down everything you intend to do. Include everything, even your plans to eat a healthy lunch and workout, prepare dinner for you and your family, every detail.
Then organize the piece of paper by asking yourself: "If I could only do one thing on this list today, which one thing would it be?"
And if I could only do two things which would be the second and the third? And then when you start first thing in the morning, start off with number one, and discipline yourself to work only on number one until it's complete. Then move on to number two.
2) Don't Check Your Email in the Morning
Checking your email in the morning makes getting off track entirely too easy. It starts with just one email, and before you know it, you're several hours into your day and you still haven't started on your number one task.
Keep your phone away from you or off to avoid distractions from your most important task.
Focus on your most important task for the day, work on it until it's complete and then you can check your email and other incoming requests.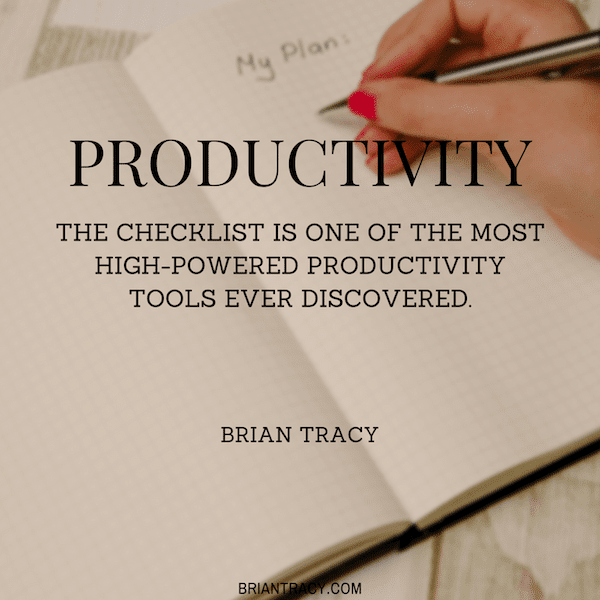 3) Make Your List of Written Tasks the Night Before
The final way for you to make sure you have a productive next day is to make this list of goals and tasks the night before.
Your ability to make good plans before you act is a measure of your overall competence. The better plan you have, the easier it is for you to overcome procrastination, to get started and then to keep going.
By writing down your goals before you go to sleep, you will think about the things you need to do and mentally prepare yourself to do them before you even wake up the next morning.
When you plan each day in advance, organize your list by priority, and stick to your plan, the work will go faster and smoother than ever before. You will feel more powerful and competent. You will get more done, faster than you thought possible. Eventually, you will become unstoppable.
Those are my 3 suggestions for increasing your day-to-day productivity. If you haven't seen my other videos about improving your productivity and increasing your position in life, take a look.
What strategies have you used to prepare yourself for a productive day? Why did they work for you?
Join me for my free Productivity training. During the training, I'll teach you the only 6 things I recommend for achieving more in life – without adding any additional unnecessary workload to your day and much more! Click the button below to learn more.
« Previous Post
7 Ways to Show Gratitude, Be Thankful & Boost Your Motivation Next Post »
The Difference Between Goal-Setters & Non-Goal-Setters
About Brian Tracy — Brian is recognized as the top sales training and personal success authority in the world today. He has authored more than 60 books and has produced more than 500 audio and video learning programs on sales, management, business success and personal development, including worldwide bestseller The Psychology of Achievement. Brian's goal is to help you achieve your personal and business goals faster and easier than you ever imagined. You can follow him on Twitter, Facebook, Pinterest, Linkedin and Youtube.