How to Become a Freelance Writer & Take Control of Your Own Career
Are you looking for a new career — one where you're in control of your work and your schedule? If you enjoy writing, then becoming a freelance writer might be the perfect job for you.
Freelance writers are self-employed, working with individual clients on what is typically a short-term basis. Instead of earning a yearly salary, freelancers get paid by the hour or by the project.
There are numerous benefits to starting a freelance writing career. For one, you can enjoy the independence and flexibility of setting your own schedule and choosing your work. You can also work from anywhere in the world and make as much money as you'd like.
But, this career isn't for everybody — it takes a lot of work to market yourself as a freelance writer. You'll need to hustle 24/7, staying in an entrepreneurial mindset to find the clients you need. But for anyone who is a skilled writer and a hard worker, freelance writing can be an excellent way to take control of your own career.
Here's everything you need to know on how to become a freelance writer.

What Do Freelance Writers Write About?
The short answer: Virtually anything.
Freelance writers could write anything from two sentences for a social media ad, to an entire book for a client. Most writers choose to specialize in a certain type of content or copy — this will help you become more skilled at that type of writing and get more clients.
Take a look at these statistics from a study conducted by expert freelance writer, Elna Cain:
77% of freelance writers create blog posts

30% create website copy

24% do copywriting

22% write emails

17% write social media content

8% write research papers

7% write ebooks

4% write B2B whitepapers
Whether you're itching to dig into a book-length project, or you think short-form copy is more your speed, there's someone out there who's looking for what you have to offer.
Topics covered by freelance writers also span the gamut, covering practically anything you could imagine! But is freelance writing really a lucrative and beneficial career?
Why Become A Freelance Writer?
A freelance writing career has a lot of benefits — some that you may not expect. First, as a freelancer, you have the ability to set your own schedule.
If you're still working a full-time or part-time day job, you can work on your freelance writing tasks at a time that's convenient for you. On the other hand, if you're a full-time freelancer, you can take time off whenever you want as long as you complete your projects by the deadlines.
Freelance writing allows you to write about what you want.
Are you a former real estate agent? You might enjoy working with clients in the real estate industry. Have you always been interested in fitness? Work on fitness-based projects.
Freelance writing is a great way to make some extra cash on the side or to cover your entire salary. When you're self-employed as a freelance writer, there's no limit to your earning potential. If you work hard and focus on landing higher-paying clients, you could make as much as $10,000 per month from your freelance business!
One final benefit is that freelance writing can be done from anywhere in the world. Maybe you've heard about digital nomads, who put their laptops in their backpacks and jet off around the world — doing their work from a sparkling beach or historical, culturally rich city.
While this lifestyle isn't feasible for everyone, there's a good deal of truth to it! As a freelancer, you can work from the comfort of your own home; from your favorite local coffee shop; from the sideline of your kid's sports practice; or pretty much anywhere else.
You can also work with clients from all over the world, even if you aren't located near a large city. This flexibility is one of the major benefits enjoyed by freelance writers.
How to Become A Freelance Writer
If you think this career might be a good fit for you, here are some helpful steps to take to become a freelance writer.
Sharpen Your Writing Skills
To be a freelancer, your writing skills need to be strong. There are plenty of online courses and other resources you can use to improve your writing. Try working through an online course, watching YouTube videos, or reading ebooks with tips for writing different types of content.
After you've perfected your writing, the next step is to practice, practice, practice. Do you want to write news articles? Make a daily practice of reading the news and summarizing it in your own words.
What if your goal is writing marketing copy? Start cranking out different styles of marketing content like blogs, social media copy, or advertising. Practice is the best way to see progress in your writing skills.
You can also ask other freelance writers who are further along in their careers to read your writing and provide their advice or feedback. This might take the form of a formal mentoring program, or an informal ask for a social media connection.
Sometimes, it makes sense for early-career freelance writers to take on a few pro bono jobs. In this case, you would approach a company or publication you're interested in working with and offer to write an article for free.
Many websites look for guest bloggers who write for free in exchange for a byline upon publication. This is called "working for exposure" but you don't want to do it for long — after all, your goal is to earn money and make a living through freelance writing. But if you're starting from ground zero, it can be helpful to get your name out there in print.

Identify What You Want to Write
Maybe the idea of ghostwriting books appeals to you. Perhaps you have a knack for crafting short, punchy social media copy. Or maybe you've always enjoyed staying up-to-date on the latest news.
There are so many options for freelance writers, that it's important to pick exactly what you want to write. It may take you some time to figure out what you want to specialize in, but it's good for freelance writers to have a niche. You'll be able to establish yourself as an authoritative expert with the type of writing you do.
Once you've decided what kind of writing interests you most, focus your learning and practice that kind of writing. You can find courses available specifically for different types of content. Or seek out a mentor who has several published pieces in the style you'd like to write.
Choose an Industry
Next, choose an industry to focus on. Freelance writers often write in industries including:
Digital marketing

Bussiness

Sales

Tech

Ecommerce

Financial

Insurance

Legal

Real estate

Education

Health and wellness

Fitness and nutrition

Healthcare

Lifestyle

… and more!
Whichever industry you choose (or industries — it's okay to pick 2-3, especially if they're related), remember that each one has a different tone and voice. You'll need to familiarize yourself with your industry as much as possible so you can reflect that preferred voice. It's best if you have hands-on career experience or life experience in the industry you choose.
Once you get some experience writing in your industry, you'll sharpen your skills as a qualified writer.
Create A Portfolio
The next step to knowing how to become a freelance writer is to create your portfolio. You should have your writing samples easily accessible. That way, when you're pitching to an employer, you have something to show for yourself and your skills — proof that you can write.
If you haven't been published anywhere, you can still build a portfolio using practice samples. Upload documents to your website instead of adding article links.
Or, start your own blog and direct potential clients to your most recent post. You can find several free portfolio websites online, or create a more traditional website
Your freelance website should include additional information beyond your portfolio. Share some details about your writing experience, include your contact information, and add a few personal details to humanize you.
This is a great place to talk about your previous career experience and explain why it qualifies you to be a freelance writer.
Start Pitching
Once you have a strong portfolio, you're ready to start looking for opportunities and pitching yourself as a writer.
One way to find freelance writing jobs is to use online job boards. You can find contract opportunities in a variety of industries on these boards. While freelance writing job boards typically don't offer the highest-paying opportunities, they can still be a good place to start.
Don't forget to use your networking. There might be people already in your network who are looking for somebody with your skills.
Another method to find freelance writing work for yourself is cold pitching. Email companies you'd like to work for and pitch your services to them. Identify the content manager or marketing manager of the company. Then send them a friendly, professional email introducing yourself, sharing your portfolio, and explaining how you can help solve their problems.
While you can reuse the same general template for these emails, make sure each one is unique. Mention what you like about that company, or that you noticed their blog post hasn't been updated in a while. (Solution: You.)
Beyond that, freelance writers often use different websites like LinkedIn and UpWork to find clients. These professional platforms are great networking resources. Set up a profile that reflects your expertise as a writer and links back to your website.
Then share articles you've written, and marketing tips for clients in your target audience. You should also strategically follow people in your industry and leave thoughtful comments on their posts. If they need a writer down the road, your name will be top of mind.
Succeed as a Freelance Writer
Sustaining a freelance writing career long-term takes a lot of work. But for those who succeed, it can provide a lucrative and rewarding lifelong career.
Want to sharpen your skills for potential clients? Use a free resource like my Book Writing Template to help. This template is my personal advice on how to write the book for your (or your client's) dreams.
Download the template and get ahead on your freelance writing career now.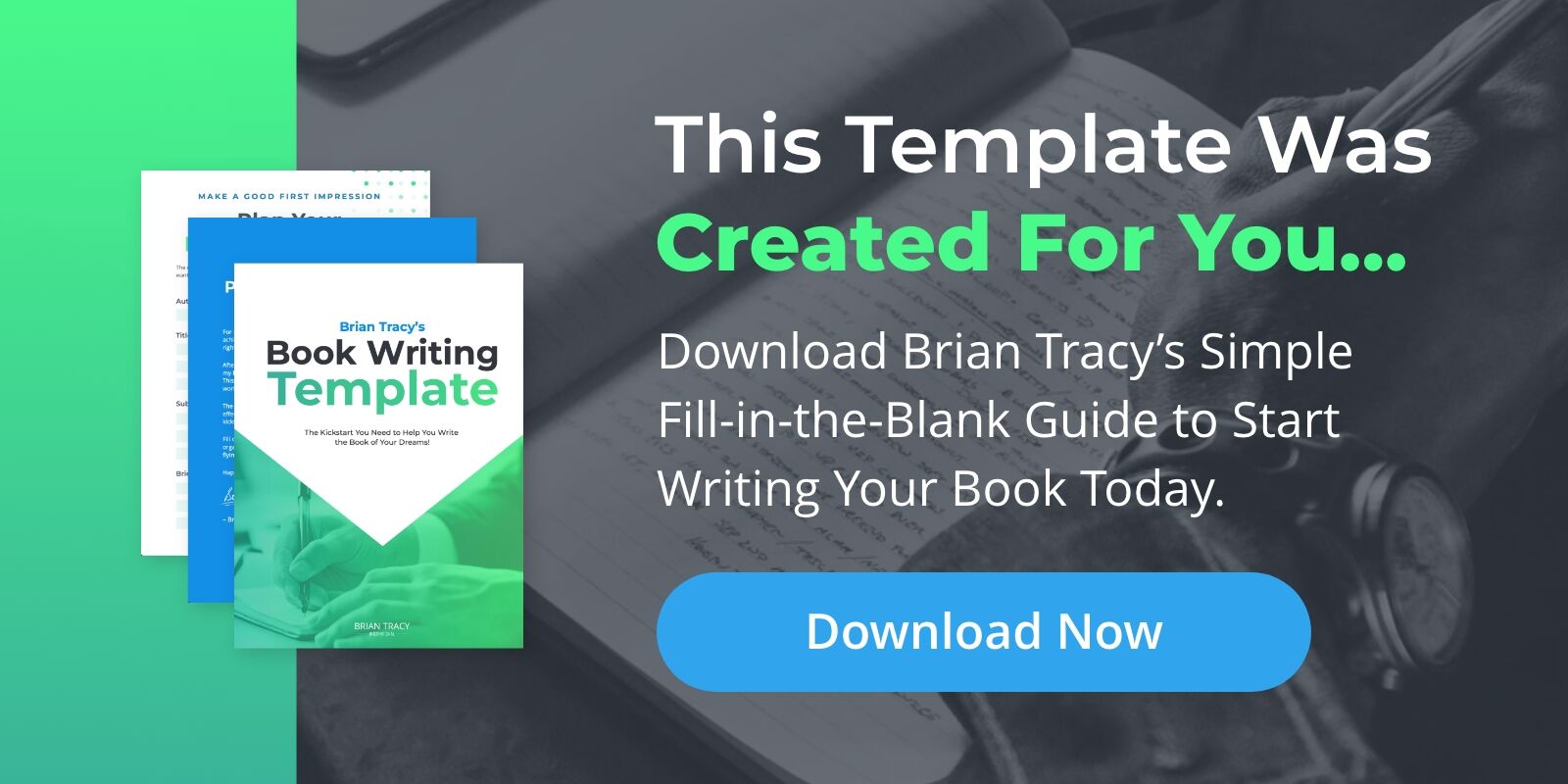 « Previous Post
12 Tips to Set You Up for Success at Work Next Post »
How to Network like a Pro to Meet Other Professionals to Help You Level Up Your Career
About Brian Tracy — Brian is recognized as the top sales training and personal success authority in the world today. He has authored more than 60 books and has produced more than 500 audio and video learning programs on sales, management, business success and personal development, including worldwide bestseller The Psychology of Achievement. Brian's goal is to help you achieve your personal and business goals faster and easier than you ever imagined. You can follow him on Twitter, Facebook, Pinterest, Linkedin and Youtube.