10 Tips for Writing a Book: Get Started Now
Writing a book and becoming an author is a lifetime dream for many people.
But it can be more than a dream. While on the surface writing a book can seem daunting, it doesn't have to be.
When you break the writing process down into simple steps, you'll find yourself capable of writing not just one book but as many as you want. 
Here are 10 quick tips for writing a book you can use right now to help you get started.
---
10 Tips on How to Start Writing a Book
Whether your goal is to become a best-selling author or simply write your first book, follow these 10 steps to help put you on your path to success.
Tip 1: Pick Your Topic
Picking a certain topic you want to write about will not only help your book flow more easily but will also help prevent writer's block. 
When you're focused on one topic, it's a lot easier to come up with ideas specific to that theme than searching for random ideas that may cloud the flow of your book. 
Ideally, your topic should be something you're passionate about. This will make the writing process more enjoyable and result in a more compelling book.
Tip 2: Do Your Research
Once you choose your topic, look up other books that might relate. Learn as much as you can, including current information that readers are interested in hearing about. What problems can you solve for your audience, and how will you solve them?
Get to know the authors who wrote those books on the same topic a little bit more by doing some online research. Write down what made these books successful by reading reviews.
Make note of various aspects of best-selling, successful books. Examples include tone of voice, length, vocabulary, artwork, writer authority, formatting, character development, and so on.
Tip  3: Make an Outline
Making a book outline is one of the most important tips for writing a book. 
It helps you organize your creative thoughts so you can see from the beginning where your book is headed to ensure you include all the right parts. Learning how to write a book outline only takes a few simple steps.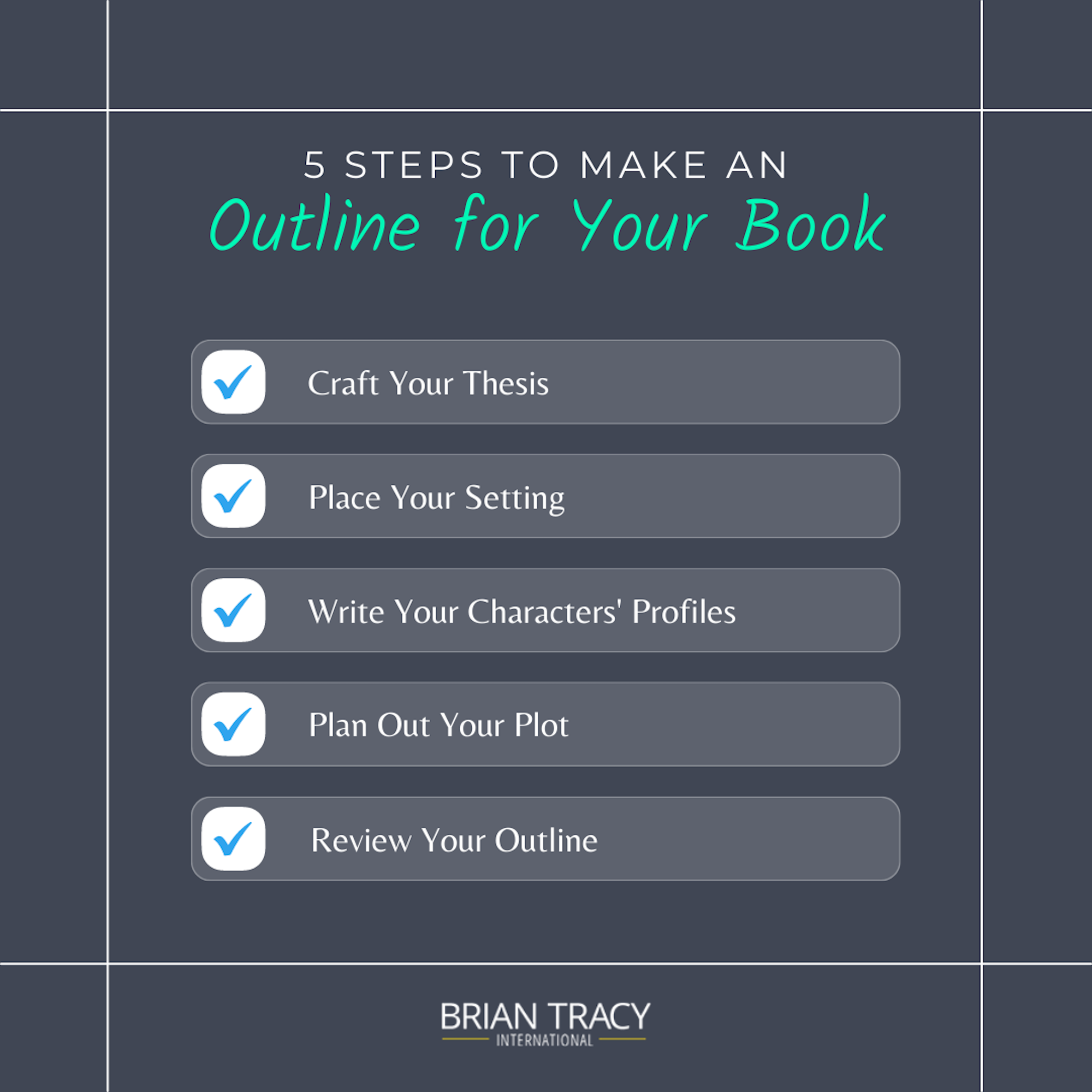 How to Write a Book Outline
The first step to writing a book outline is to craft your thesis. Identify details about the main protagonist, the central conflict of the book, and the main theme.
You'll then place your setting by detailing where and at what time your story takes.
Next, write down your characters' profiles, including how they act, their backgrounds, personalities, and roles in the book.
Continue with several additional steps on how to write a book outline until you have a clear road map for writing your book. 
Tip 4: Set Attainable Word Count Goals
Before jumping into your book, it's important to set a baseline that will help you stay on track and stay motivated through your book-writing journey. 
Consider setting a word count goal that is attainable for you. To help keep you on track, try making it a SMART goal.
For example, your goal could be something like, "I will write 500 words of my book every week to finish it by January 31." 
Tip 5: Start Strong
Starting anything can be difficult to do. But the first four tips to start writing a book should hopefully make you feel a little more confident to begin.
Additionally, to kick your book off with a bang, keep your target demographic in mind with the following questions: 
What is the age range of the prospective reader?

What is the sex of your ideal reader?

What is the income range of your ideal reader?

What is the job level or occupation of your ideal reader?

What is the level of education of your ideal reader?
Then put pen to paper and just start, keeping your SMART goal or word count goal in mind.

Tip 6: Ask for Feedback
You don't have to go through your book writing process on your own — and you shouldn't.
Ask others for their opinions, ideas, and any inspiration that could help you write the best book possible. In essence, they'll be giving you indispensable tips for writing a book.
Join or form a mastermind group of people who would be interested in the topic you are writing about or who may also be writers. Poll the members to ask what they would look forward to reading about. Or, if you are stuck, ask them what direction they think the book should go.
Find those you trust to give you constructive feedback about your outline and first draft. Input from others can give you ideas you hadn't thought of and make your book more compelling and complete. 
Tip 7: Edit & Review
Once you've completed the first draft of your book, pass it off to an editor or reviewer to help clean things up a bit.
It's best to ask someone to edit your work, aside from doing it yourself—the more objective eyes on your initial work, the better.
Tip 8: Publish Your Book
Once your book has gone through edits, revisions, and has been finalized, it's time to publish!
Ways to Publish Your Book
Self-publish

Pitch to publishers and hire one
There are many places you can turn to for publishing your book. Learn more about the differences between self-publishing and other publishing options at my blog post, Everything You Need to Know About Publishing Your Book. 
Tip 9: Share It With the World
Now that your book is complete and published, tell the world about it.
Share your book launch on social platforms. Tell your friends, family, mastermind group, and co-workers. Send emails to your client list. Talk about your book on podcasts. 
Once you share your work with the world, you will start to see your success flourish.
Tip 10: Ask for Reviews
To see your book really take off with the intended audience you wrote it for, ask readers to review your book when they're done.
This type of word-of-mouth validation influences more people to buy and read your book while building trust in you as an established author.
Get Started Now
Writing your first book or your next best seller is a goal that goes well beyond just your dreams. Simplify the process to get your book into readers' hands with these 10 tips for writing a book.
To learn more about how to write a fiction book or nonfiction book, attend my free book writing webinar. In this book writing program, I'll help you overcome the fears that are holding you back, show you how to focus your thoughts so you can write, and carve out the time you need to write a book within 90 days.
« Previous Post
6 Tips for Giving the Best Virtual Presentation Next Post »
10 Leadership Qualities & Characteristics of Good Leaders
About Brian Tracy — Brian is recognized as the top sales training and personal success authority in the world today. He has authored more than 60 books and has produced more than 500 audio and video learning programs on sales, management, business success and personal development, including worldwide bestseller The Psychology of Achievement. Brian's goal is to help you achieve your personal and business goals faster and easier than you ever imagined. You can follow him on Twitter, Facebook, Pinterest, Linkedin and Youtube.